Top 5 Luxury Foundations for 2023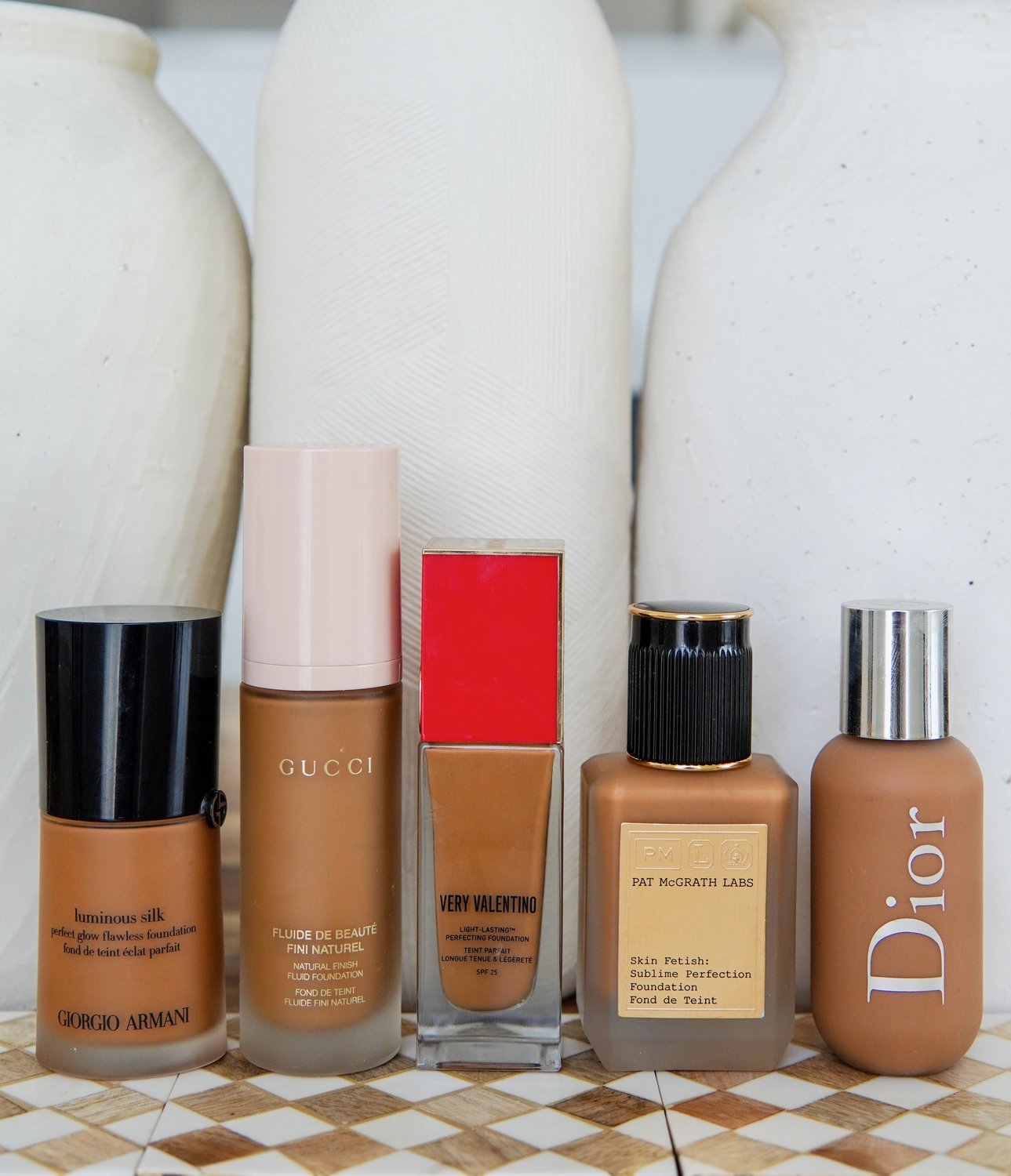 Buying the wrong luxury Foundations can be an expensive mistake. You need to know the coverage, the lasting power, and the suitability of the skin type before you can move on to colour matching.
I have tested more luxury foundations than I can remember, especially with many Luxury Fashion houses starting Beauty in the last few years meant that there are many to choose from.
I tried many foundations in 2022, and these are my top 5 luxury foundations for 2023; they not only passed the test but also excelled, and with every single one of these foundations, I will happily repurchase.
Pat McGrath Skin Fetish: Sublime Perfection Foundation
This is the holy grail of luxury foundations to me. So water-like think and light texture with such solid coverage and long-lasting power, I would highly recommend this foundation despite the hefty price tag that it comes with.
I did a full review of this foundation in a Testing Beauty episode which you can find here.
VERY VALENTINO VERY LIGHT, VERY LASTING FOUNDATION 24H WEAR BREATHABLE PERFECTION
This is like a sister foundation to the Pat McGrath Foundation; hence it is coming in second place. It lives very true to its' long name. It is extremely long-lasting while having a light, high-coverage texture. It feels like a second skin and makes you look like it is just good skin.
Once again, it is on the higher end of the price spectrum, but a little goes a long way with this one, and it goes very well with the Valentino highlighter in liquid form as well. It is a year around foundation you can wear from day to night.
DIOR BACKSTAGE

Backstage Face And Body Foundation

Despite knowing it has existed for a long time, this is a love that I have only very recently discovered. I always thought this might be a very light, almost no coverage foundation, so I never tried it out until my good friends from Dior one day just put it on me, and I was very presently surprised.

The coverage is light to medium but is very buildable, and out of all foundations, this gives you the most natural and skin-like texture. It is perfect for long days, weddings and events during the day.

Since then, this has become my everyday daytime foundation, and I love this gorgeous foundation by Dior!

If you are looking for a comparison of Dior foundations, here is the review on Testing Beauty.
Giorgio Armani Luminous Silk Foundation
This is a classic! It is such a well-loved foundation by makeup artists for events that I have never heard anyone say anything slightly critical about this foundation.
It is a light to medium coverage foundation famous for red carpet looks because it is like wearing a filter. If you want to be airbrushed for a big day, this is the one. The only downside I find with this is that it is not high coverage, so if you have a scar, a birthmark or anything else you want to cover, you need a layer of concealer underneath this foundation.
Lasting power is good but not the best. It needs powdering throughout if you have oily skin, especially around the T-Zone. I love this foundation for the days when I have to be camera ready as nothing photographs as beautiful as the luminous silk foundation from Giorgio Armani.
The full Review on testing Beauty is here.
GUCCI

Fluide de Beauté Fini Naturel Foundation

When Gucci launched beauty, I was on the waiting list, waiting to try out their creations, and they stood up to my expectations and beyond. Gucci Foundation is one of the most underrated luxury foundations in the market. But once you know it, it is something I have repurchased and has become a staple in my makeup drawer.

It works fantastic with the Gucci Primer, a full-coverage foundation that makes you look healthy and radiant. It doesn't move when you set it with powder, and I love how long-lasting it is.

Unlike many luxury foundations, it comes in a great colour range covering all skin tones. I have done a detailed review on the Testing Beauty series, which you can read here.