Best trends for Summer 22 and how to wear them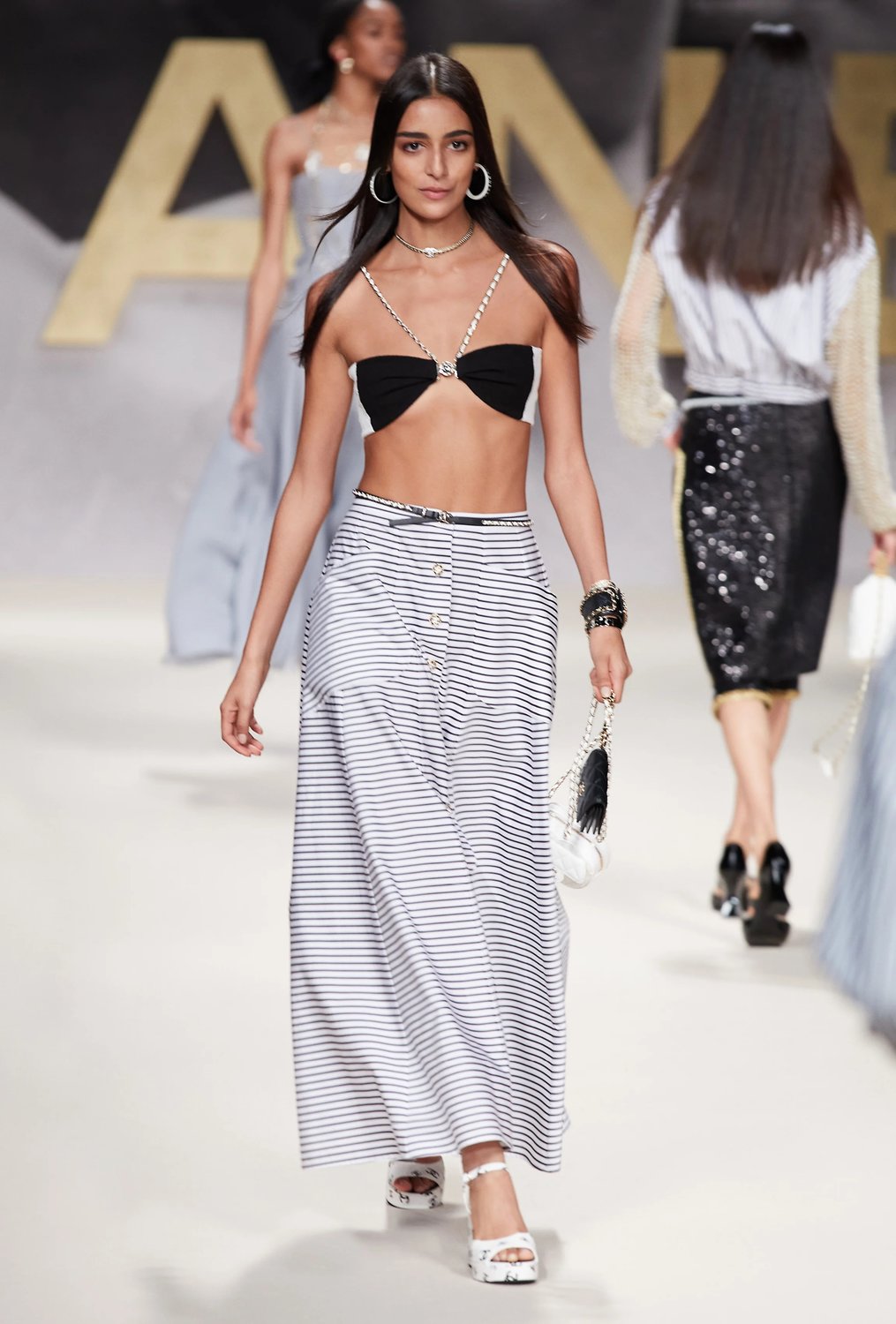 First Summer of not being in lockdowns has definitely been a significant improvement. Summer is also the time of the year we see the world of fashion brighten up and bring us styles that are refreshing. The overall energy we are seeing in all-new fashion collections is bright, optimistic and fuelled by positive energy. Best of all there is no loungewear insight, we are tucking all our matching loungewear sets deep into our wardrobe for them to be a mere memory of the past. We are seeing a complete of in-person fashion shows and all the designers are definitely showing what they've got. After 18 months of in-person fashion events being on halt, it's truly exciting to see everything blossom and come to life.
If anything we are seeing more and more of layers being shed, embracing sheer looks and all the minis…
The truth is… We're still not letting these 90s comebacks go just yet from our wardrobe's. We saw in the Miu Miu show the beloved return of baggy pants and I for one was ecstatic to see these staying with us for another season. They are the perfect option for an effortlessly cool look especially when paired with a 90s style variety college jacket. The varsity jackets - tailored and refined give any outfit that edgy, statement look but are so easy to wear with almost anything, be it a skirt or a trouser.
The low rise trend you either love or you hate and many people are of the latter opinion. However, when you see it done by Miu Miu all you feel is low rise envy and you will find yourself scrolling for some options. Every since we saw Miu Miu do this trend, it's hard to runway from it as you can see it now in most places on the market. Are you happy that this one has made a comeback?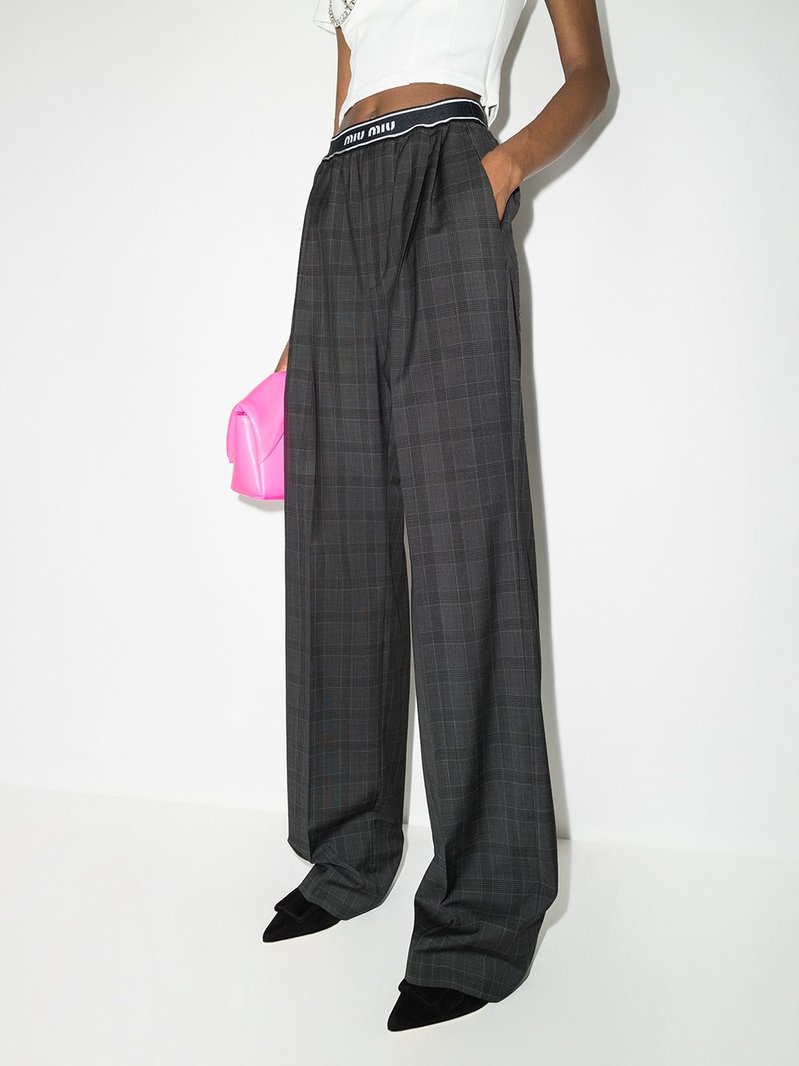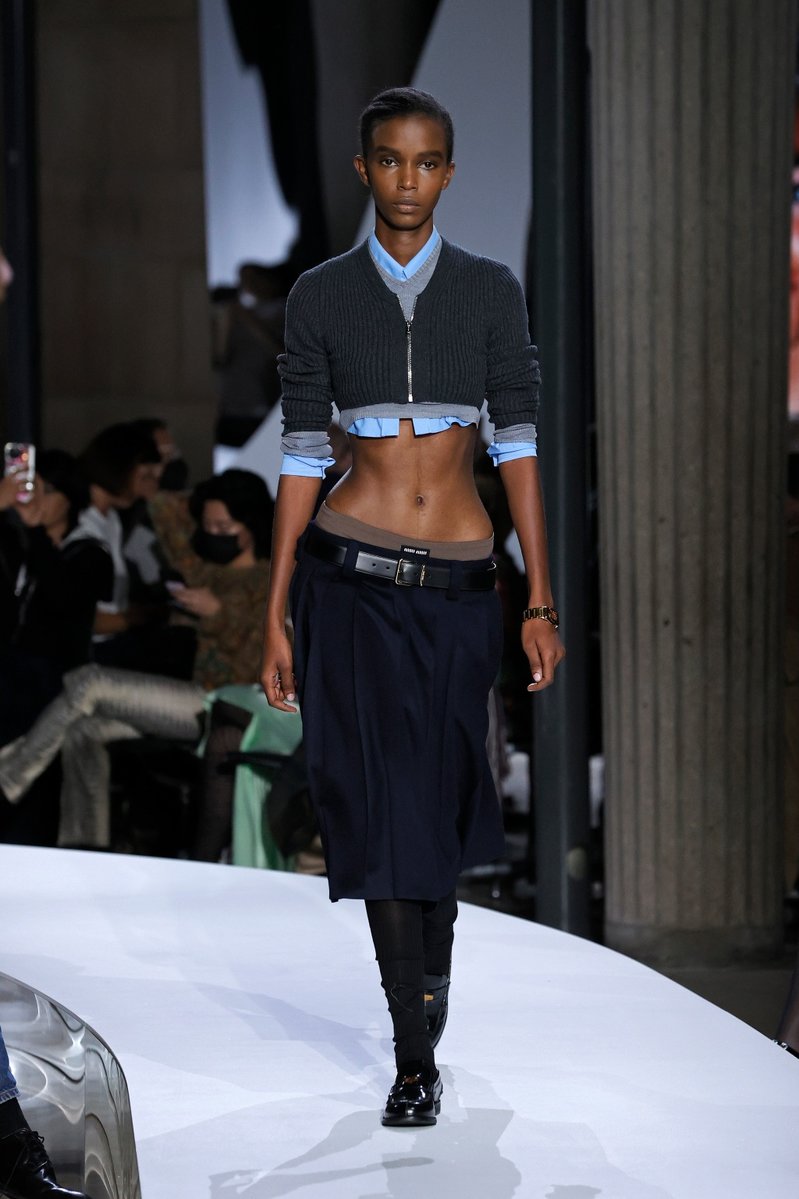 So long winter coats, we're ready for the massive denim jackets, puffers and trench coats! The more oversize the better - whether you want something a little boxier, there is a big jacket style out there for everyone. A perfect effortless last touch to any mini skirt outfit and you check two trends in one! We have seen the rise of baggy, oversize pieces grow over the last few years and this trend is not going away for a while...
Is 2022 going to become the year of skirt suits? It sure looks like it. A suit is now universally a classic piece in every woman's wardrobe but the skirt suit is yet to be included… This combination has become a sensation and it has been done by almost every designer and is being worn by all the fashionistas. Once it was called an old-fashioned piece, now it is that look that when paired with loafers or ankle boots can make an excellent edgy look.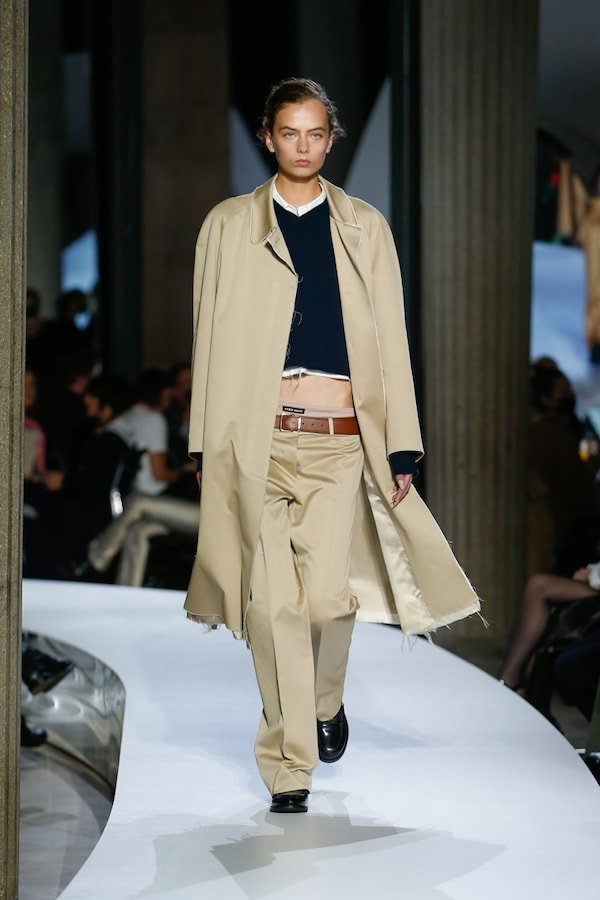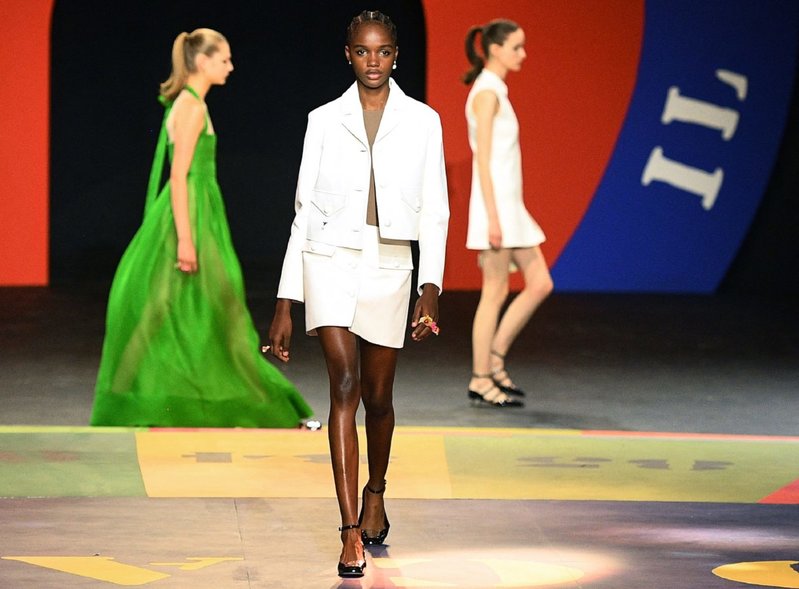 We have seen a lot of trends resurface and the mini skirts are truly back. The skirts are getting short, short. We saw super-short skirts at Miu Miu's Spring 2022 collections. Tennis skirts are last years news, we're here for the mini's now. The styles of these are endless, in different patterns and colours but all of the super mini's are straight and boxy. They are not fitted and give an edgy, boyish look.
Although we might be ditching the loungewear, we are keeping the casual and sporty looks here to stay. It seems as though more and more brands have a higher focus on comfort and functionality that doesn't compromise on style and wearability. We are seeing windbreakers, varsity jackets rule the high street and runways accompanied by sneakers and tennis skirts. Everyone is loving mixing the cool and sporty essentials with elegant staples.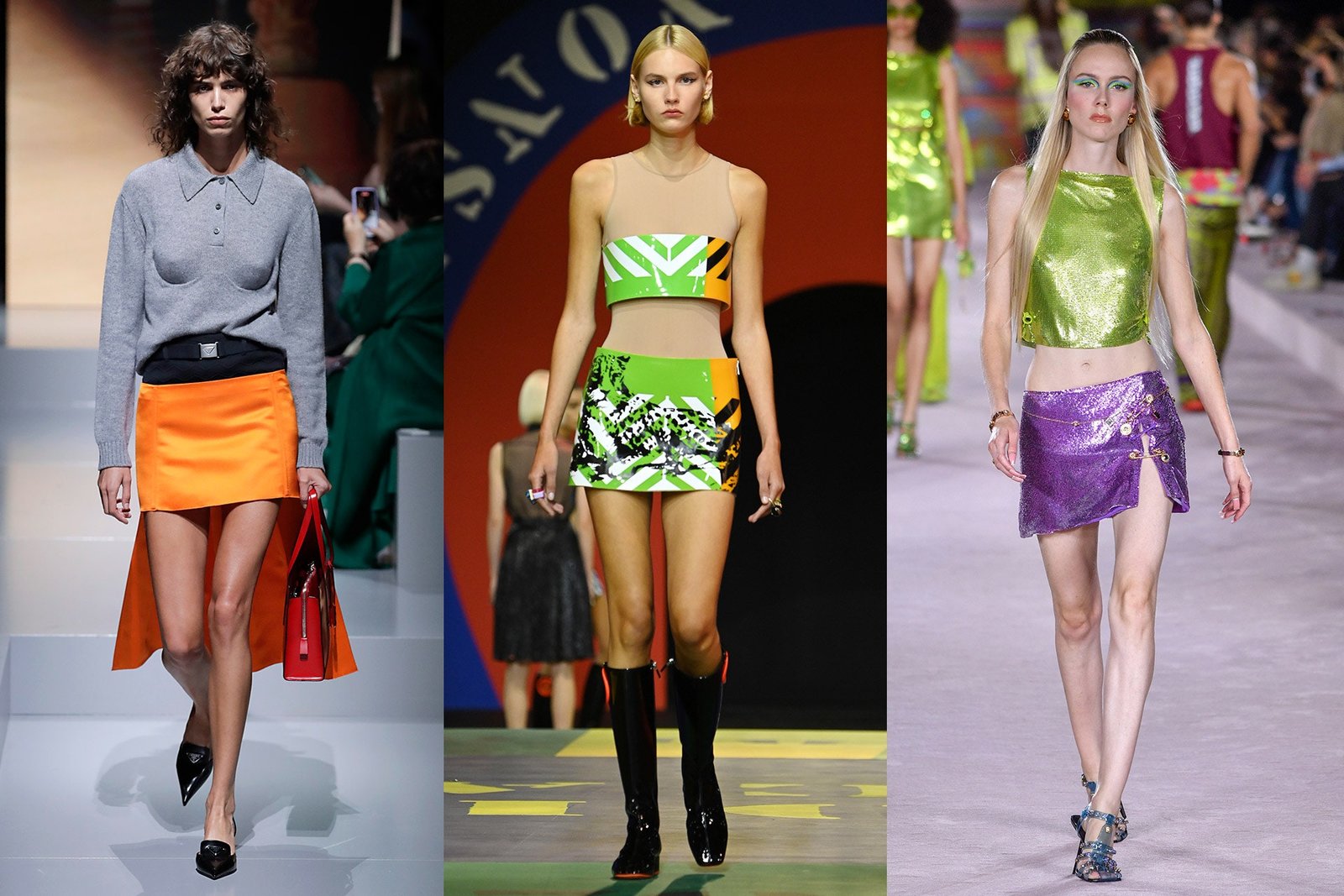 Summer fashion is in full bloom when it comes to all things prints and colours! Spring Summer has always been that season where everything becomes to come to life and that is no different in fashion. Especially with the high spirits fuelled with the post-pandemic joy we are embracing all the floral prints, retro-style prints - you name it! The more crazy and extravagant the better - you want to be catching people's eyes…
Choose some lime hues to create a colour crash or pair this shirt easily with some denim trousers for the ultimate comfortable look. One can't deny how effortlessly cool a shirt can be, let alone when it is a Valentino shirt. This purple is the colour of the season and because of this, it is hard to get. They fly off the shelves as they are the perfect fit with some baggy trousers or a trendy mini skirt. This colour means it's Spring.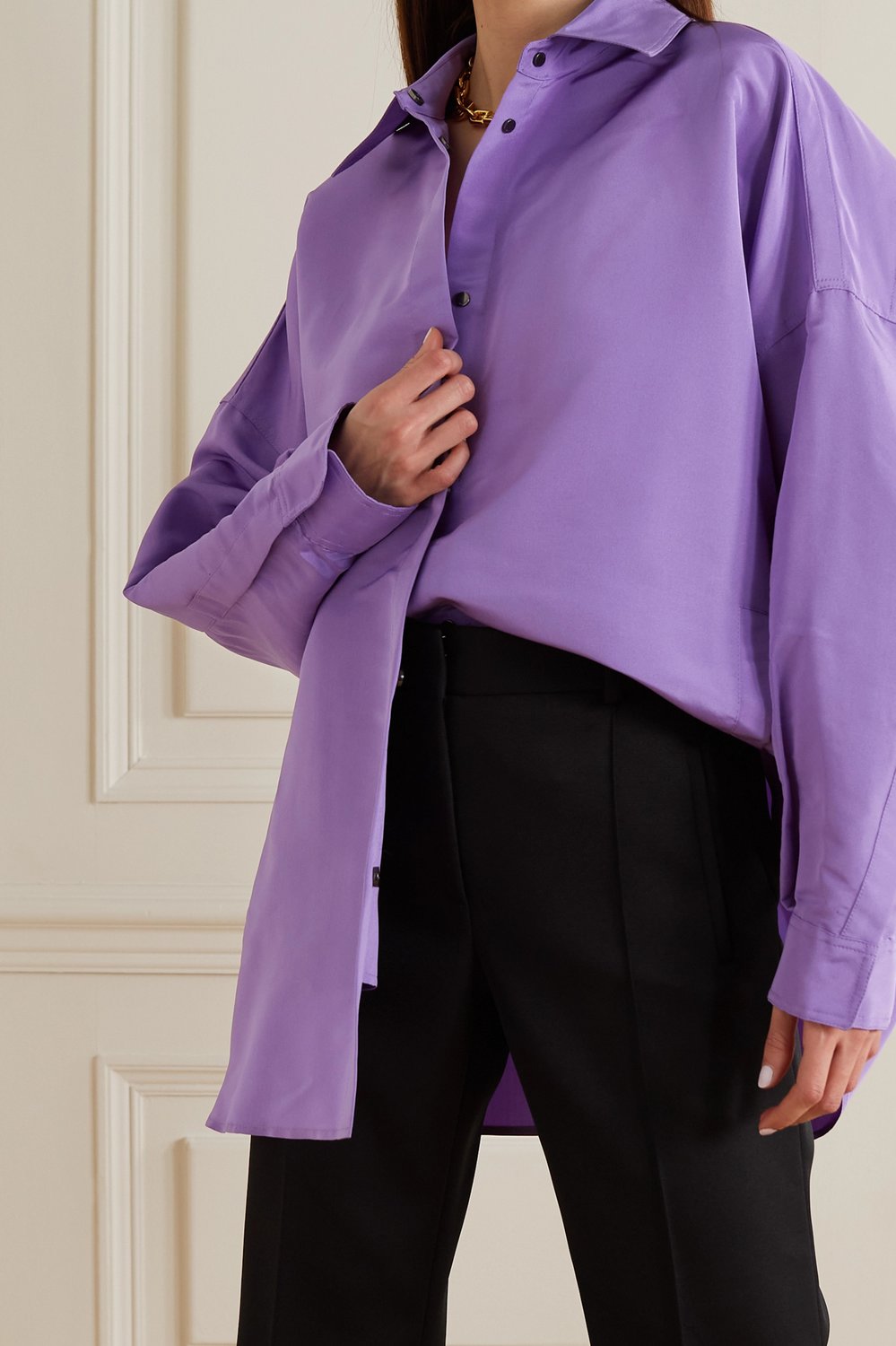 It's officially time to say goodbye to the micro bags… This season we are welcoming the biggest and most bulky bags into our lives. We are going from bags that held almost nothing to bags that will hold your whole life in them. One extreme to the other… Hello to big bags. To everyone that has one too many essentials that they can't leave at home - this trend is for you. We are travelling more than in the last two years and some of us will be going back to offices fully again so a big, bulky bag seems like a necessity and is trendy!
When both Chanel and Saint Laurent do tweed coats, then you know that is going to rule the season. These are super classics and will be a piece you will cherish for a long time. In a chain motif woven from multicoloured check tweed, the Chanel tweed coat is at the top of many people's Wishlist. It's a carefully crafted design with exceptional attention to detail. Chanel is able to create new and forward-thinking designs of their iconic tweed and each time, it is amazing.