5 Autumn Style Essentials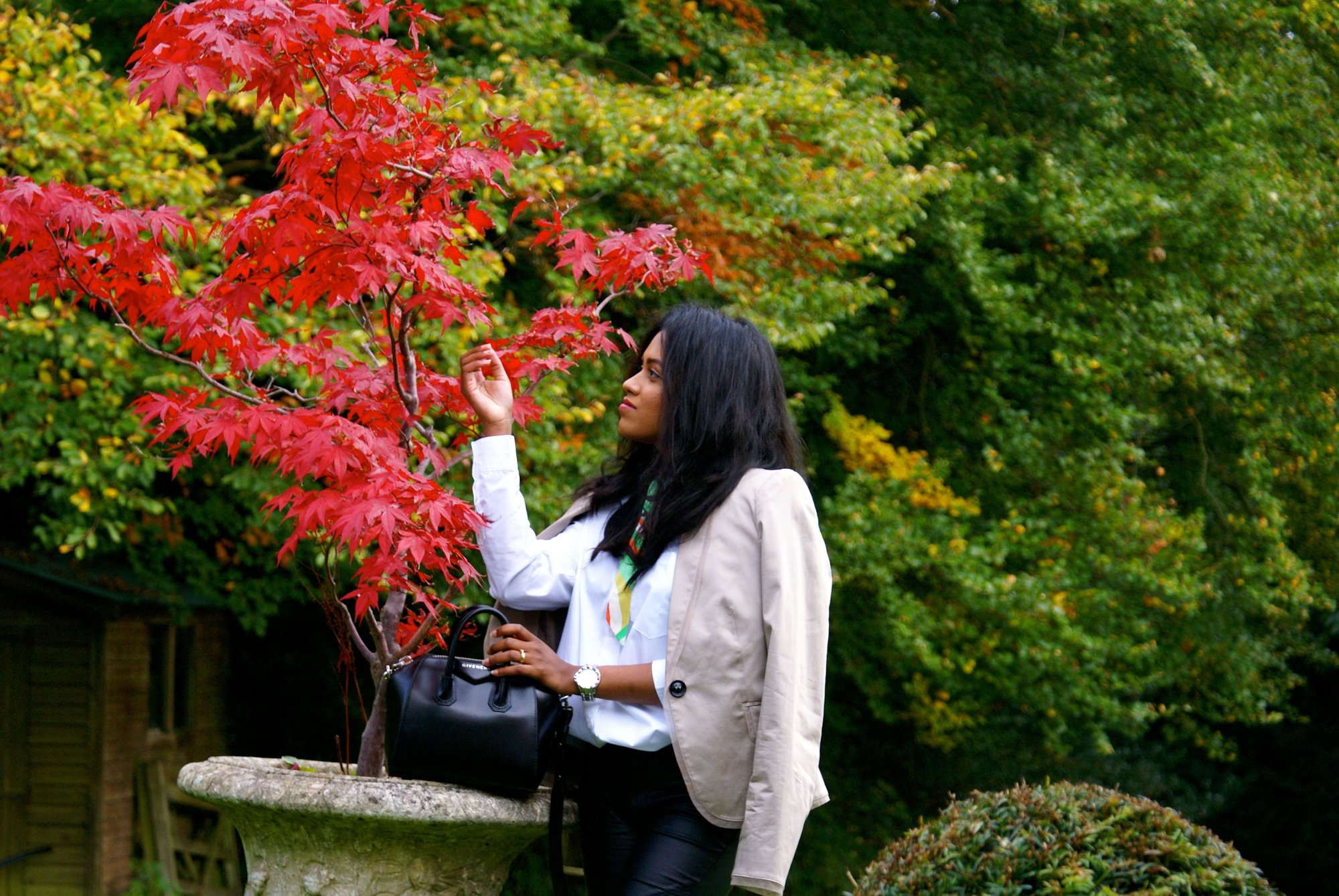 Autumn / Fall is one of my favourite seasons to style! I love the light chill, come back of the boots and jackets, making it is fun to play with layering and details. So here is my top 5 style essentials for autumn / fall with both high-end and high-street picks of each item. They build up a steady but a versatile template for many outfits. Just by changing the top and boots, you can play a lot and create many other looks.
This is the key item I started with. The more neutral the colour, more looks you can build with this item. Mine is in the colour of Nude Cream from Burberry in the Blazer style. There are so many other both high end and high street jackets you can go for and they are equally perfect for keeping us out from the cold yet looking stylish and chic! The key is to go for a jacket, that is cut well and made well, so we can dress it up and down.
A twilly is a classic comeback for Autumn and I love the way they can brighten up any outfit with a hint of colour and they make you so instantly stylish. It is the kind of item which makes the outfit look quite put-together with the minimum effort. The key is to go for vibrant yet classic colours, so it adds elegance to your outfit while still keeping the character and fun going on. Mine is from Sachini, the Twilly in Sunset colours.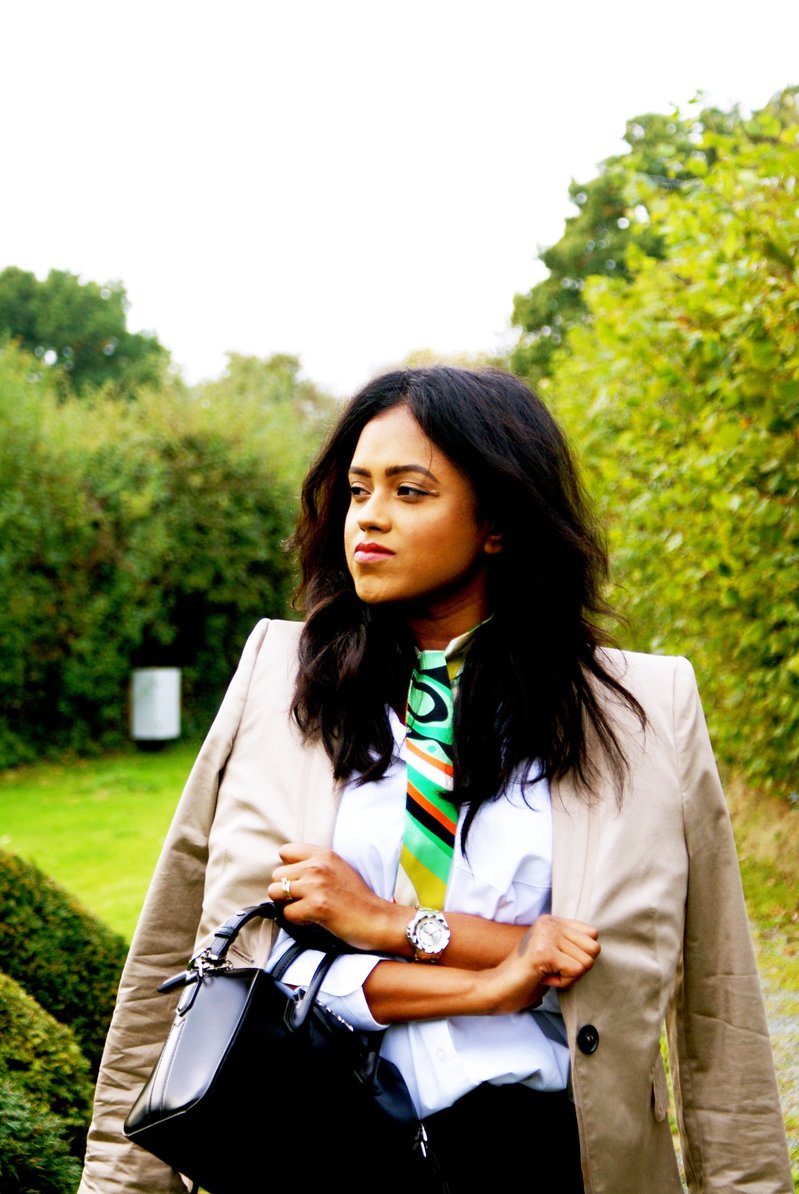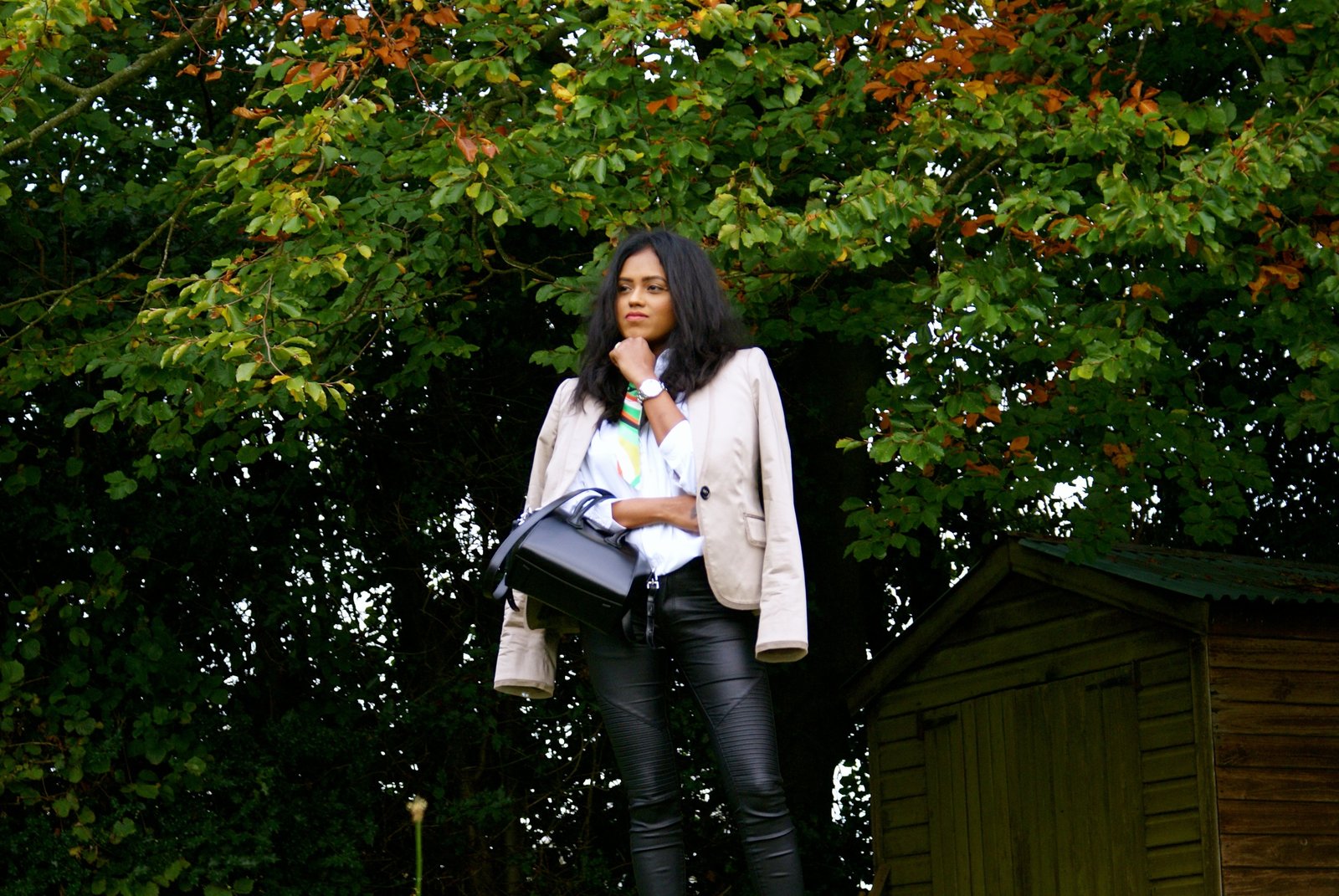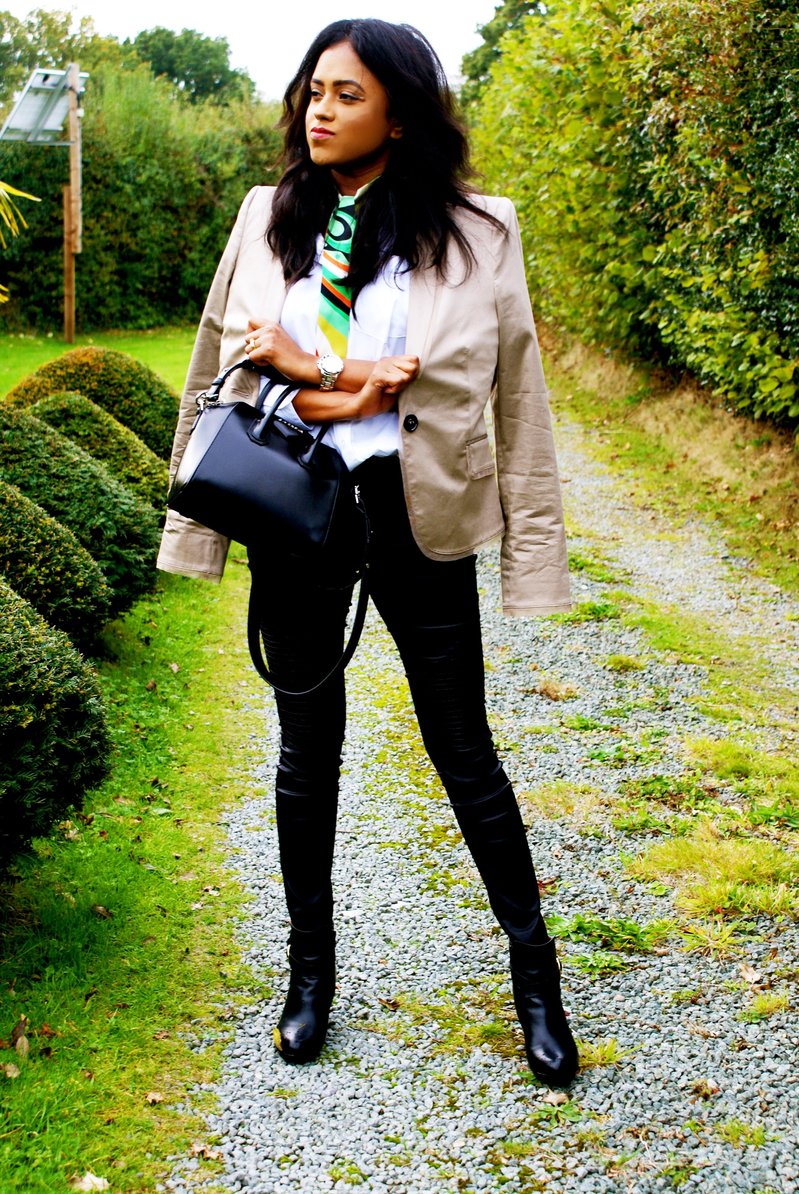 Jeans are a key piece for autumn/fall.  As much as I love my dresses and skirts, the warmth and practicality that jeans provide are hard to beat. With the right pair, you can make it elegant and comfortable. The 2 main points I look out for when going for jeans is the cut and the colour. If you know which cuts flatter your body shape (In my case, it is skinny jeans) , it is easier to narrow down the choice.
I usually tend to prefer a flattering cut over a trendy piece and I look in to the quality and materials as usual, so it will last longer throughout the season. As for the colour, I prefer black jeans, but I love blue, green or burgundy for autumn as well. Mine is from boohoo, it is a coated pair of black slim fit jeans.
In my opinion, this is as powerful as the Twilly and it is a deal-breaker. A classic handbag can really polish up an outfit. Depending on how much space you need in a bag, there is a plenty to choose from. What I usually look for is a bag which is robust and look timeless, a bag which I could wear season after season and look sophisticated. Again, I have gone for a neutral colour in choosing my Givenchy Antigona, simply because, it is more durable and goes with so many different outfits. It is a sports-luxe style bag which has a very shiny leather, which of course is a personal preference.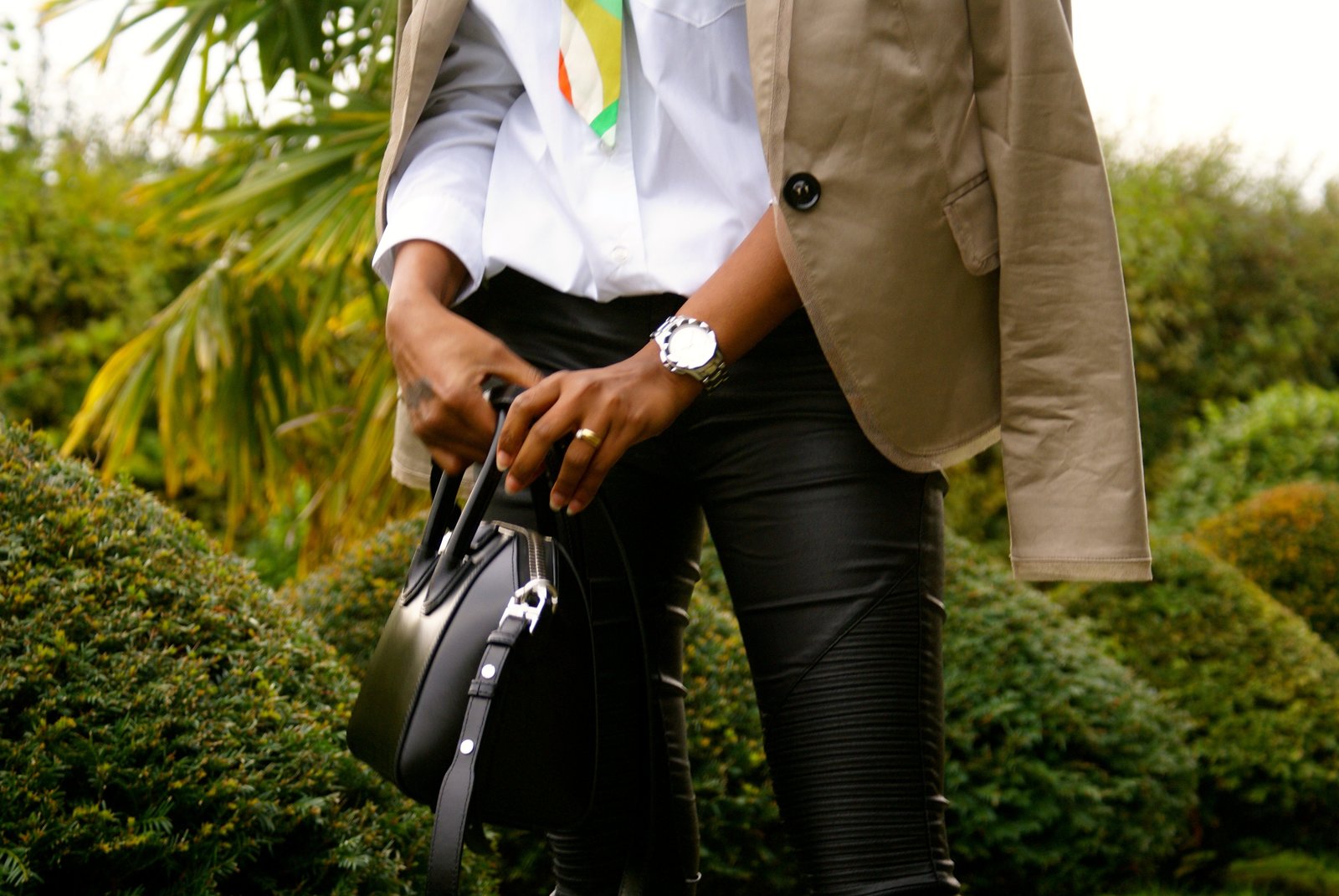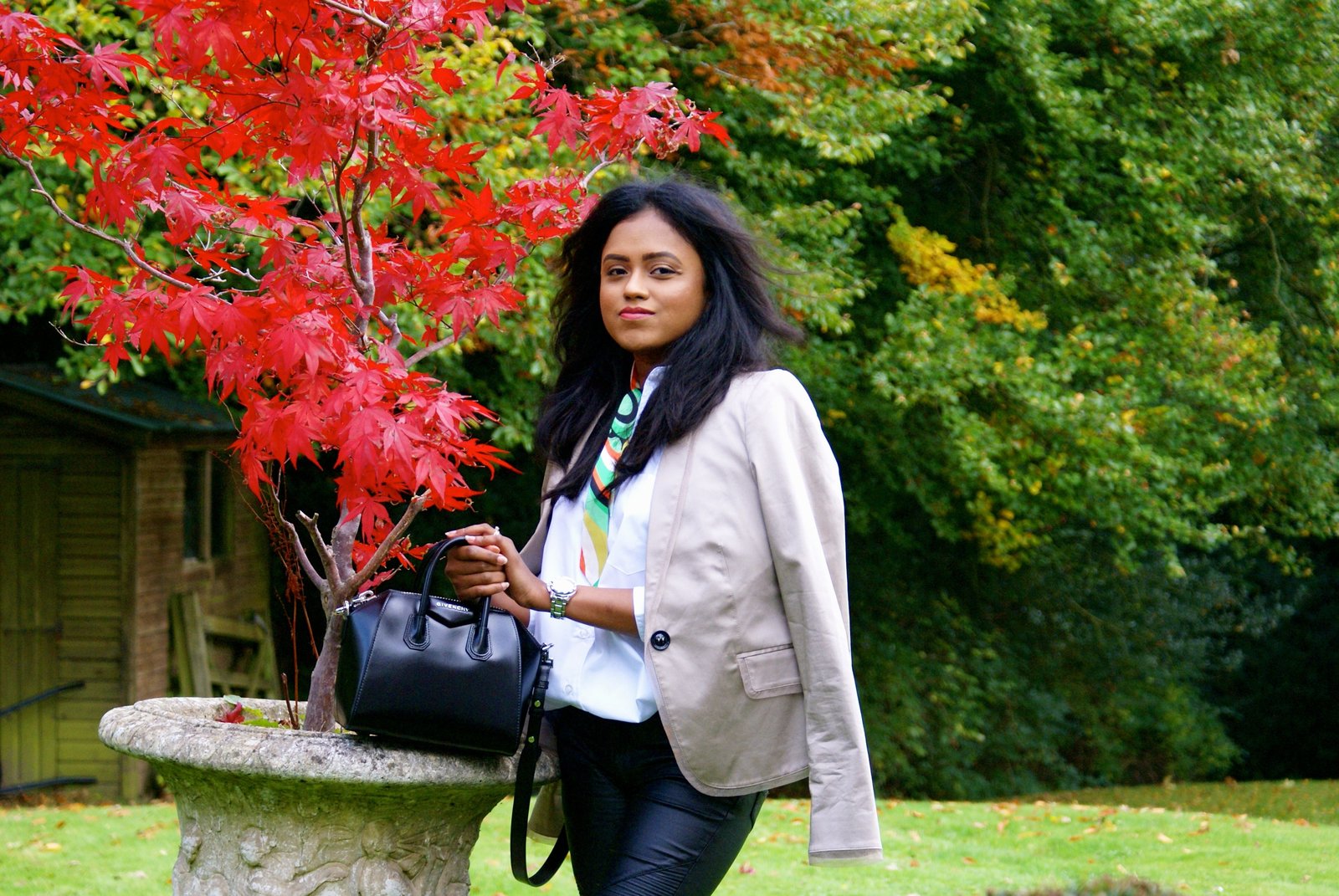 This could be any jewelry. Mine is a watch for both practicality reasons as well as personal style preferences. A piece of statement jewelry can add that stylish touch to your outfit and it also accessorize the look in a more subtle but chic way. Whether you go for gold, silver or any other style of material, my tip is to go bold.
I like a watch that stands out, looks sophisticated and fulfills the need of a hand jewelry as well as reading time. This style is somewhat minimalistic, because most of the time, this would be the only piece of jewelry I wear, so I like it to make a statement and tell a story. Mine is by Karl Lagerfeld.