Summer Style - Jeans Edition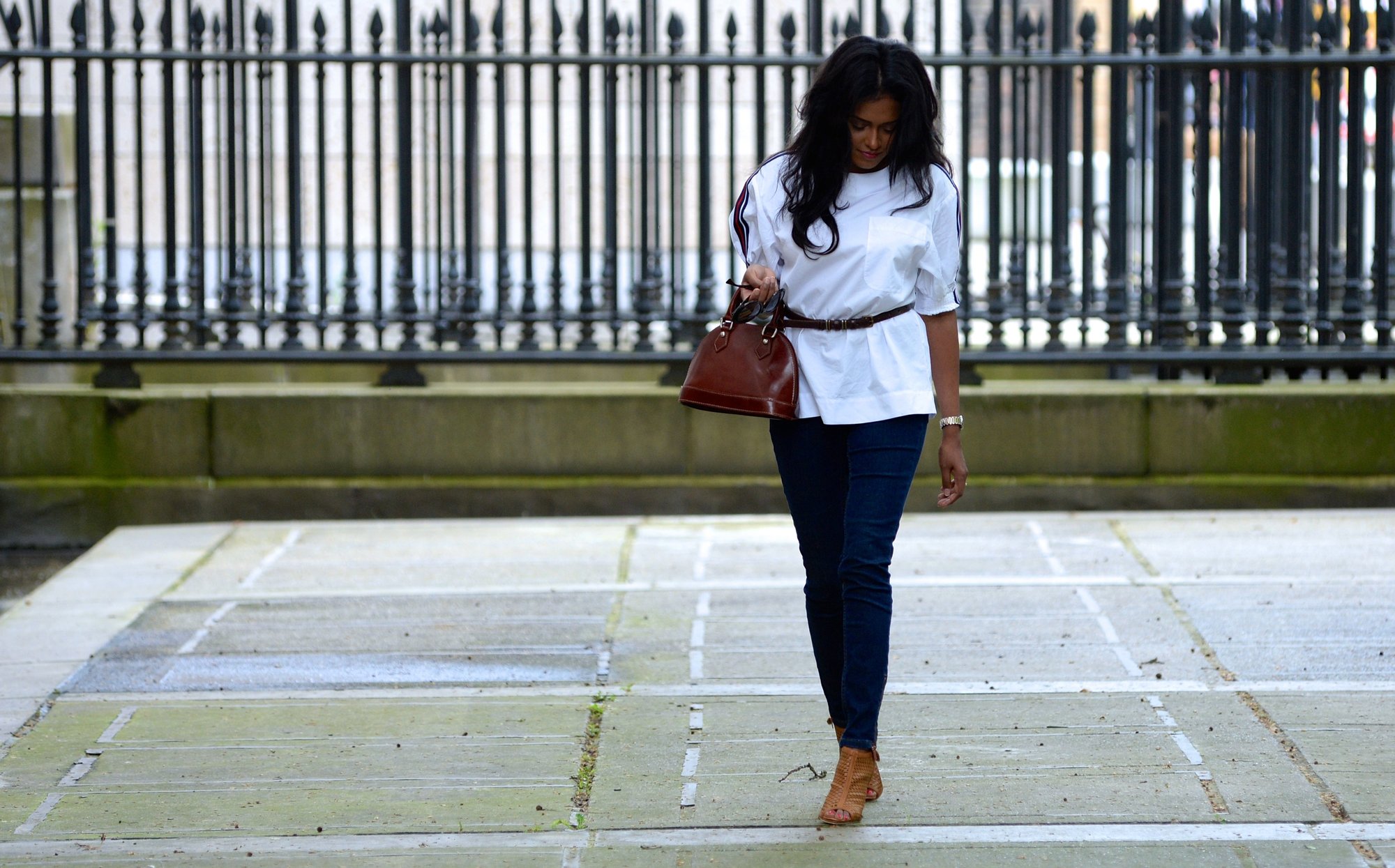 My love for a great pair of jeans is no secret. While I would love to whirl around in a sun dress in summer, there is not many days of sun dress whether in England. Also, the practicality in a pair of jeans is challenging to compete with when you have meetings and engagements around the clock.
If you style them so, jeans can be as stylish and put together and I love jeans for their versatility.
While on one hand you could wear a pair of jeans for a very relaxed and casual look, you could also create a much more elegant look with a good pair of jeans. So, here is my top  5 tips to make Jeans look stylish and sophisticated!
Neat and Chic : with a clean / well-cut top.
This can change the look of the jeans to a great extent by adding structure and brining a touch of elegance. Play with colours and shapes that you like. If you are after a more formal look, you could go with a classic silk shirt but for a more smart casual look yet edgy look, play with proportions and exaggerations. Mine is a Chloé white top with puffed sleeves and stripes of navy and red down the sleeves.
Add some Heights : with Heels
Putting a pair of good heels whether they are pumps or summer sandals can instantly put together your outfit and adds a few inches to make you look taller (which is always greatly appreciated here! ). If I am going for a more neutral palette of colours including white on the outfit, I will try to stay with nude colours for shoes such as tan or brown colours as they elongate my legs.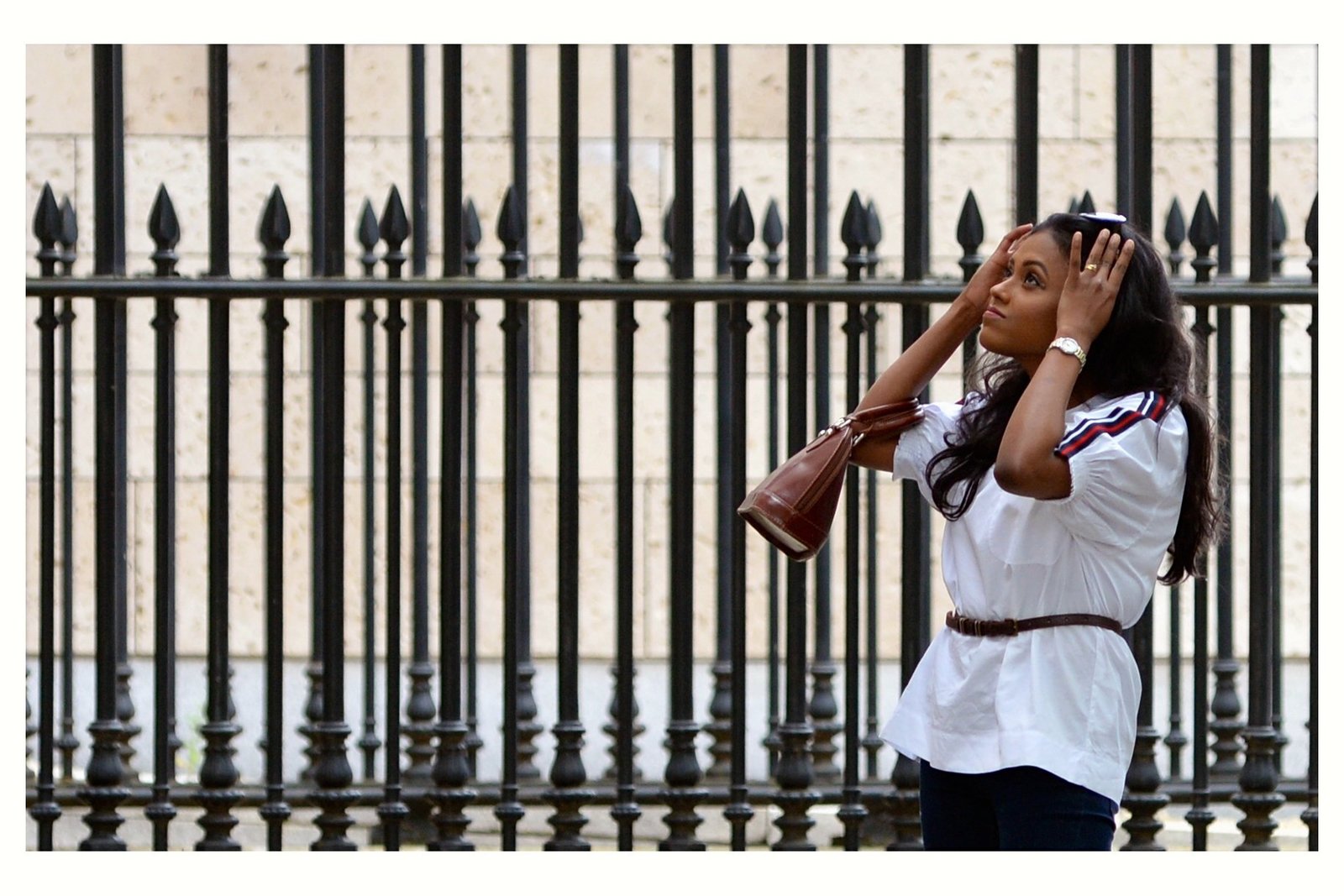 Smarten up : with a Blazer jacket
Not only it will keep you warm during the odd days of English summer, a well-cut, tailored blazer/jacket can smarten up your look. It makes your posture straight by strengthening your shoulders and adds a hint of business to your look.
Especially if you are going for meetings and seeing clients during the day, a smart blazer can add power to your outfit and make you work-ready with confidence.
Mine is a double breasted Tommy Hilfiger blazer in blue and black checks.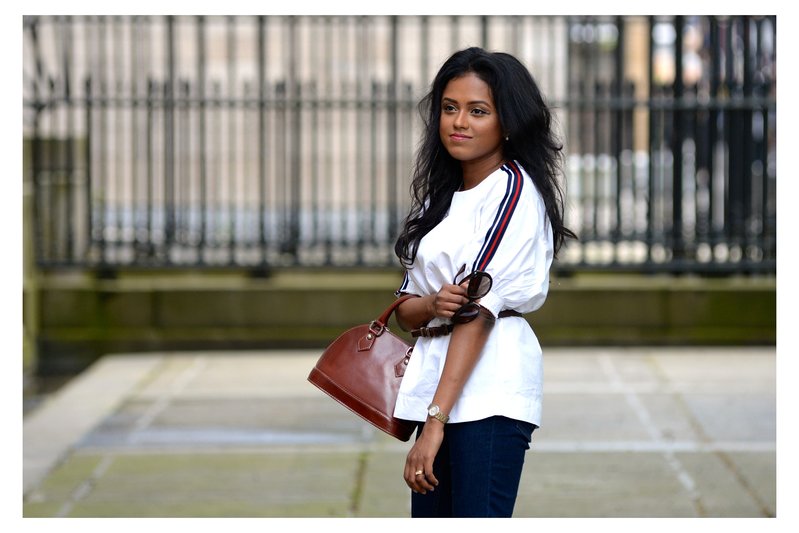 Comfortably Classic : with a great pair of Jeans
Well, the most important part of dressing jeans is the jeans themselves. To get them right, they need to flatter your body shape, be comfortable and has a beautiful shade of colour which is easy to pair with different tops. I personally love skinny jeans as they lengthen you and it flatters so many different shapes and heights. I also go for a good quality material with a useful stretch in it. A cotton blend for example, is perfect for summer and make you feel extra comfortable.
As for colours, blue jeans are quite versatile, hence I chose to style this pair from Ted Baker. But you could play with different colours and shades and most of the standard colours are quite easy to pair with tops.
Less is more : with accessories
This a fundamental rule for accessorising I always believe in. I like the subtle and effortless elegance. So a good pair of sunglasses and a  sleek bag to go with your outfit is my go-to. If your outfit needs a belt, you could add one and it could give you a more feminine look by cinching you at the waist.
As for jewellery I mostly wear a watch and a pair of stud earrings and that is pretty much all.
Going with minimum accessories allows your clothing to make the statement and shows the craft that went in to each and every item that you are wearing.
En faire moins est parfois plus payant!