Spring Denim with a Twist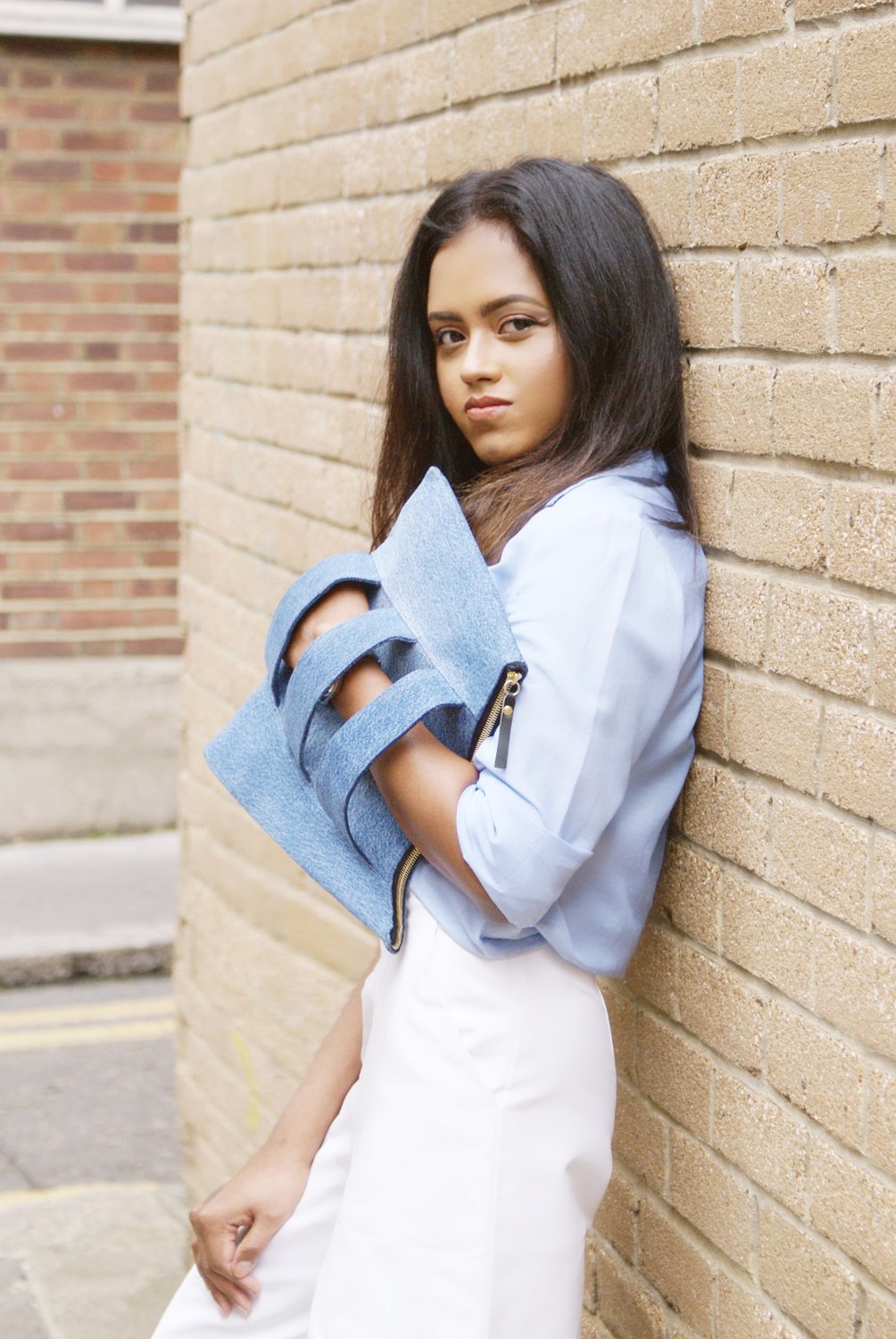 Spring is officially here and I couldn't be happier to start the Spring season with an outfit that reminds me of the ocean colors and blue skies. I love wearing whites, pastel blues, and pinks and whether you stroll around the city or smarten up for work, a great pair of well-cut trousers and a smart shirt can create bundles of elegant Spring outfits.
Celebrating the season's trends, Spring Denim makes a grand entrance this season with so many denim pieces to select from. Though a denim jacket or pair of light washed jeans might be the first thing that comes to your mind when it comes to denim, this gorgeous bag from Embellished Truth takes the creativity of Denim to one step further. Made from an upcycled pair of unwanted jeans and trimmed with microfiber, thereby vegan-friendly, this clutch completes a Spring outfit with a hint of elegance and playfulness.
I have paired them with a crisp blue cotton shirt and a long pair of wide-leg white trousers. But it will also look gorgeous paired with a white summer dress in the summer and with a neutral color blazer for dressed up occasions on colder days. You can also play with a lot of wrist jewelry with this clutch and take the full advantage of the strap design on the front. Space wise, it is quite roomy and perfect for carrying around int he daytime.
With this outfit, I have let the bag to be the centerpiece and kept the accessorizing quite minimal with a pair of Valentino Rockstud heels in the sky blue color and my silver watch from Karl Lagerfeld. If you want to add a touch more fun to this look, add a sunhat and a pair of statement sunglasses. You can also take this outfit and run with it by adding a classic trench coat for colder Spring mornings and a silk scarf to go around your neck.