How To wear black in the summer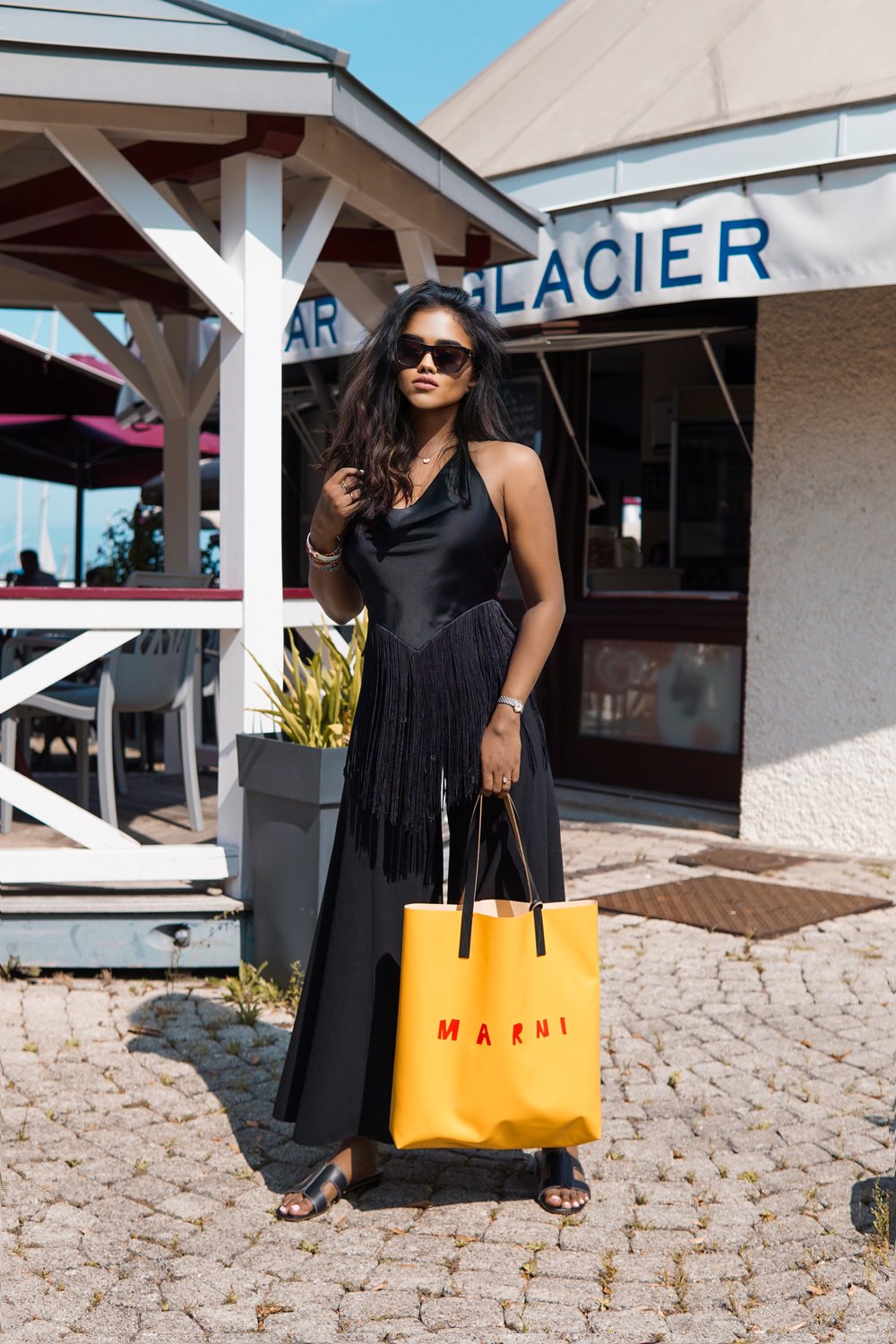 Some people might say that wearing black in the summer is very much out of place. But I'd disagree. Black is undeniably the obvious choice for when you want endless elegance. Wearing black in summer can prove to give your outfits that classy look and it has an all-year-round appeal.
Looking and feeling best is what's the most important thing. It's your wardrobe! I love experimenting with colours but so many people feel best in neutrals. If your favourite colour is black then rock it in any season. With that being said, summer can be the most difficult season to wear all black, especially on those hotter days...
There are some unconventional ways that you can experiment in different ways with wearing black in the summer.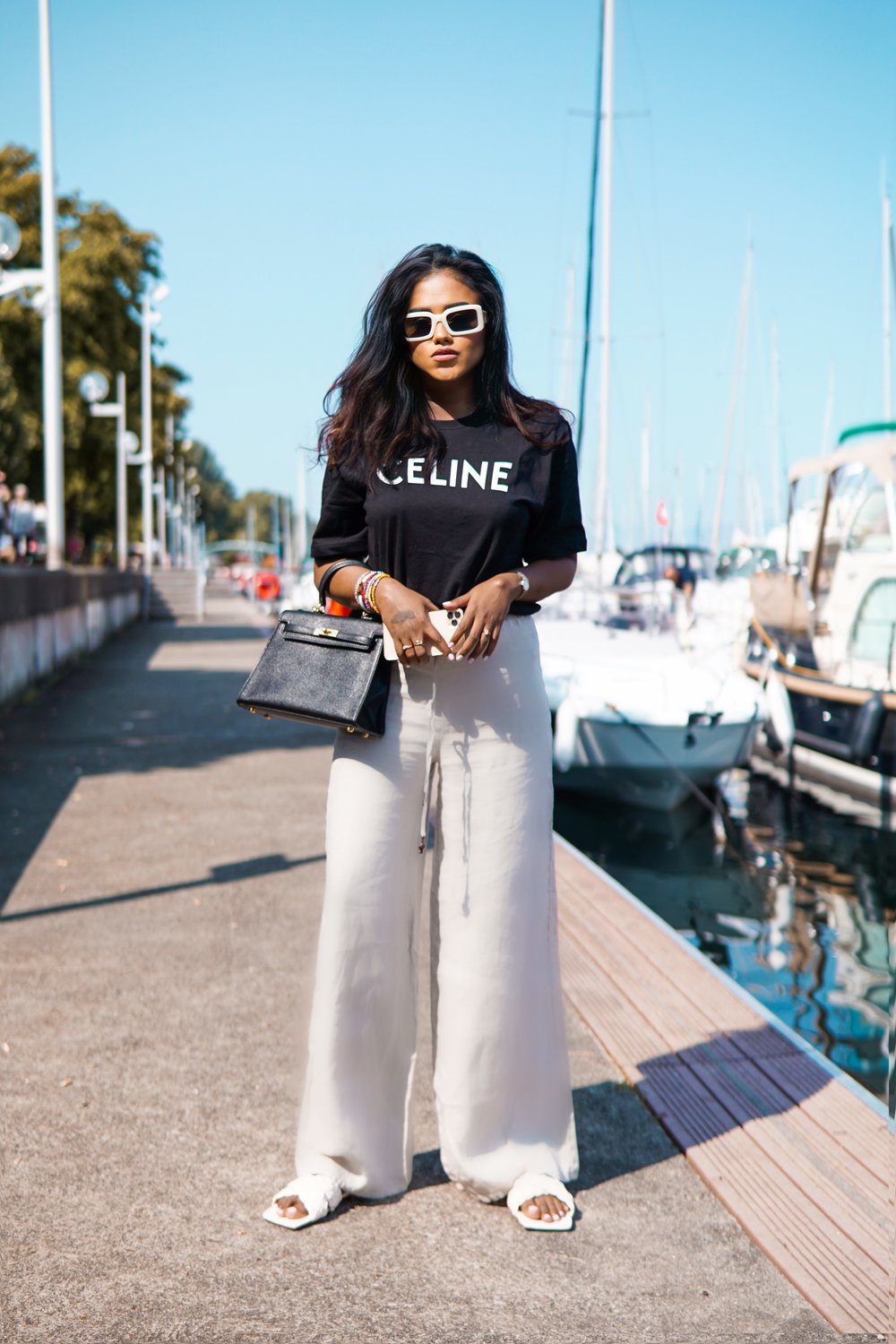 POP OF COLOUR IN ACCESSORIES
An easy way to mix it up with an all-black outfit is by adding a pop of color with your accessories.
Accessories can make or break an outfit. Below we can see a great way that Emily Ratajkowski styled a summery dress with a chic and stylish pair of sunglasses and some strappy heels! Anyone feeling outfit envy?
Whether you gravitate to a pop of color in a handbag, shoe, or pair of sunglasses. A yellow handbag makes an all-black outfit instantaneously look more summery!
Building your summer wardrobe can be so fun, I love looking out for those handbags that stand out. We all new need a neutral everyday bag but where I can I like to go out of my comfort zone and choose brighter bags that are less conventional.
An easy way to make your black essentials more suitable for the summer is by choosing outfits that show a little bit more skin. Invest in some romantic dresses that have a leg slit.
A strappy, low-cut midi dress that reveals a bit more skin is the best trick to make black look summer-appropriate whilst also being chic! As long as you feel great and comfortable, revealing the neckline or a shoulder will make your outfit looks a lot fresher and breathable - and you can catch a tan!
Essentially, showing some more skin and choosing the right fabric for your black wardrobe is vital. Materials like satin, linen, and silk are all light and airy. Anything clingy like leather trousers will make you feel hot and uncomfortable.
When it comes to black-on-black outfits, you can't really go wrong with adding fun jewellery to this type of outfit. You have a clean black canvas that naturally allows you to experiment with the jewellery pieces you had, giving a classic look a bit more of an edge. Black-on-black should be your opportunity to try those statement jewellery pieces you have! Don't we all collect statement pieces and then wait for that chance to wear them?
A string of pearls with a dress, or a blazer looks so stylish and makes any outfit a lot more eye-catchy. My favourite way to add jewellery to a neutral coloured outfit is opting for a statement earring or necklace - bold and bright. I love the way Rosetta Getty styles a cotton dress with statement earrings and little else. And not much else is needed for a look like that?
If you're into dainty and delicate jewellery pieces why not try out a maxi linen dress (everyone needs one in the summer) with a scoop neck in the back and a long necklace. One of my favourite ways to add jewellery to my outfits is bracelets! Why does no one ever talk about bracelets anymore? They are such a fun accessory especially when you opt for colourful ones but a few bracelets will never overpower an outfit…
Best of Black for this summer
Do you think we should leave wearing black to the colder seasons or are you an all-year black fashion lover?
Written by: Adela Makowska
Directed by: Sachini Dilanka