How to Style a Statement Bag | Vendula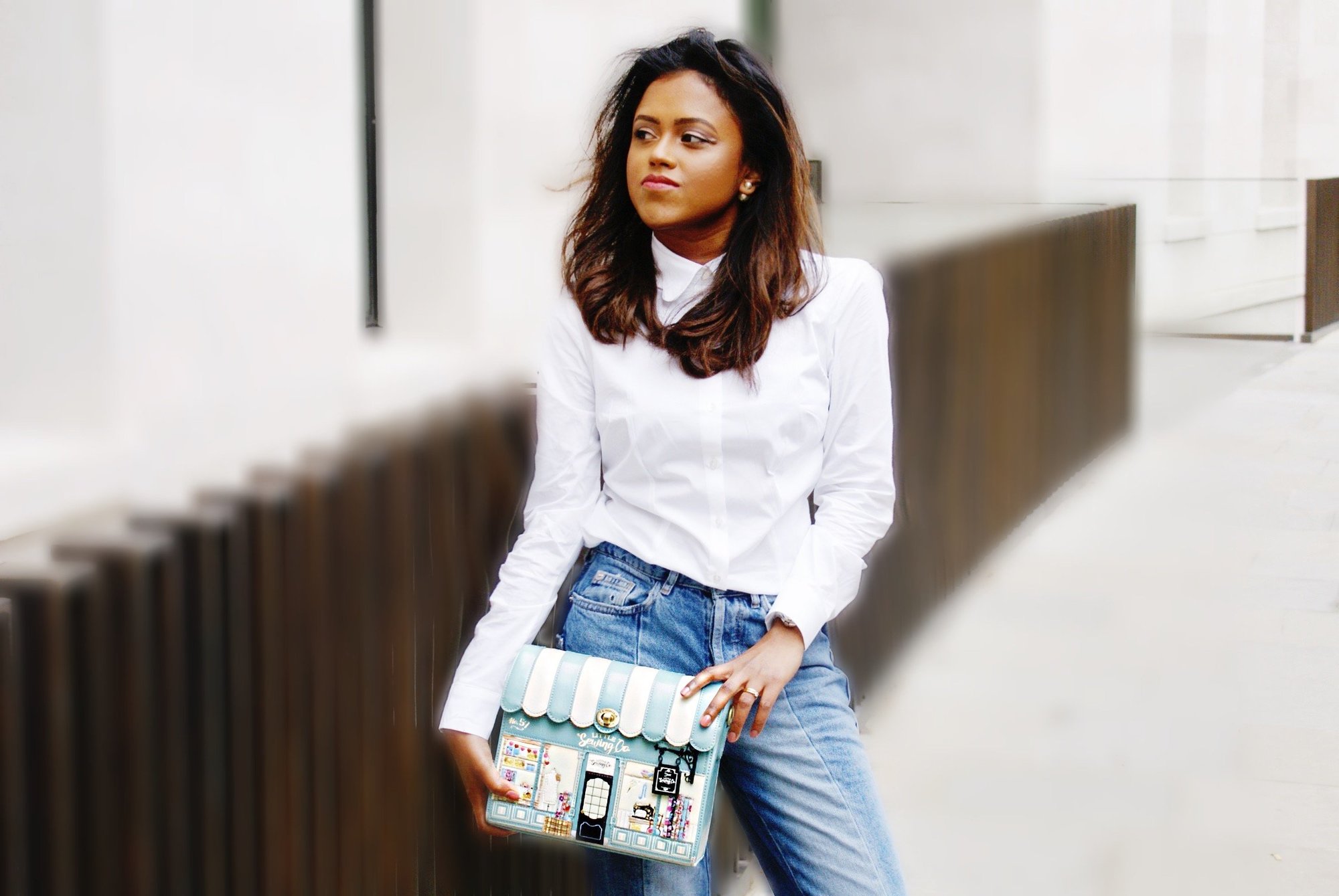 This post is sponsored by Vendula
For the longest of times, I had avoided statement bags because I didn't know how to style them. I didn't know whether it would suit me or be useful in day to day life. But then I realized it is about discovering that statement bag you love. Because that is all it takes, once you are in love, styling becomes such a joy and all of the sudden it is your go-to bag.
The first tip is the bag itself. That is where it all get started. Both luxury and high street markets are full of statement bags this season, so the world is your oyster. But as usual, I did my research to find out what are the best statement bags out there. The key was to look into the details as at the end of the day a statement bag is all about details and finish.
So when I saw this gorgeous sewing box bag by Vendula London, I was mesmerized by the attention to details, the intricate design and the well made of it.
It is also a unique design which makes you stand out from the crowd. They have so many different varieties available like the Vendula Chocolatiers Box Bag for all you girls who love your pinks, Vendula Cottage Box Bag for a more vintage vibe, Vendula Biscuit Shop Box Bag which is absolutely stunning with its monochrome designs and of course the Vendula Sewing Shop Bag(featured).
Vendula is a new brand for me as this is my first time trying the bags and I must confess that I was really surprised with the quality and the craftsmanship of the bag. The price point is very reasonable and I love how spacious and robust these bags are. They make a rocking statement but they are also made to wear and use in day to day life, which is something I very much appreciate.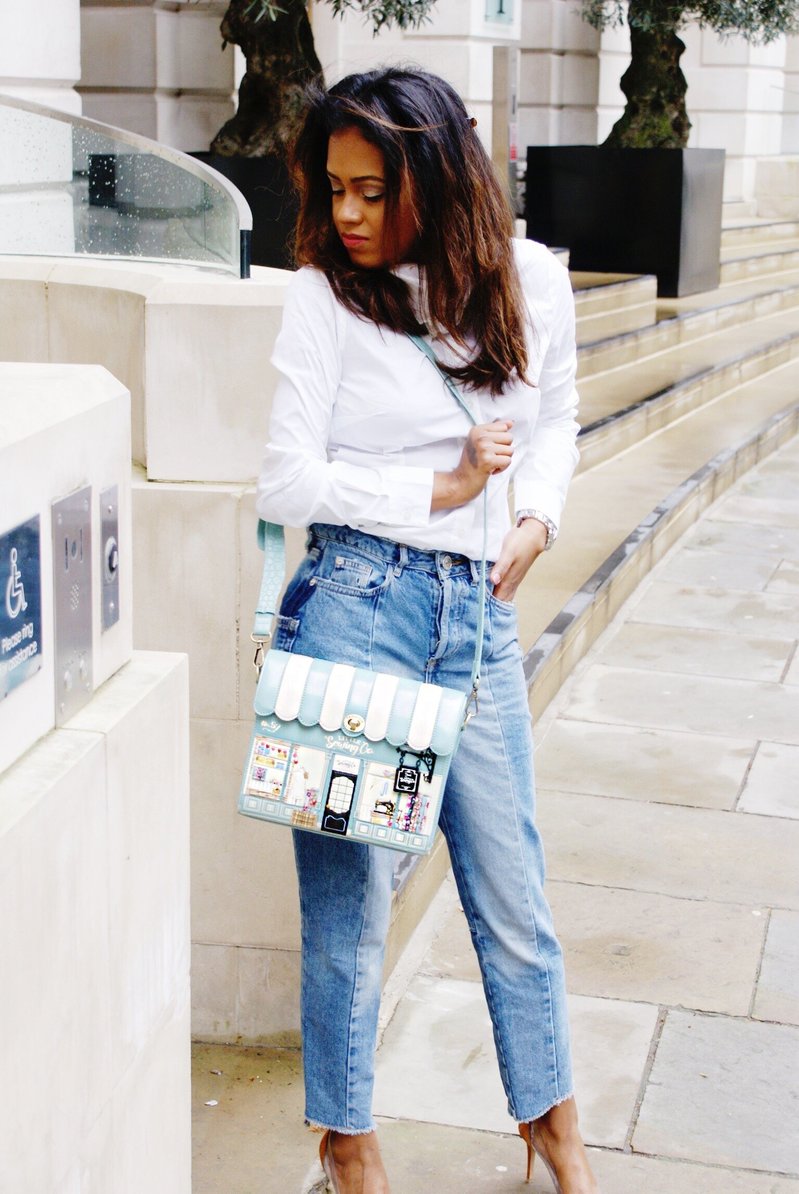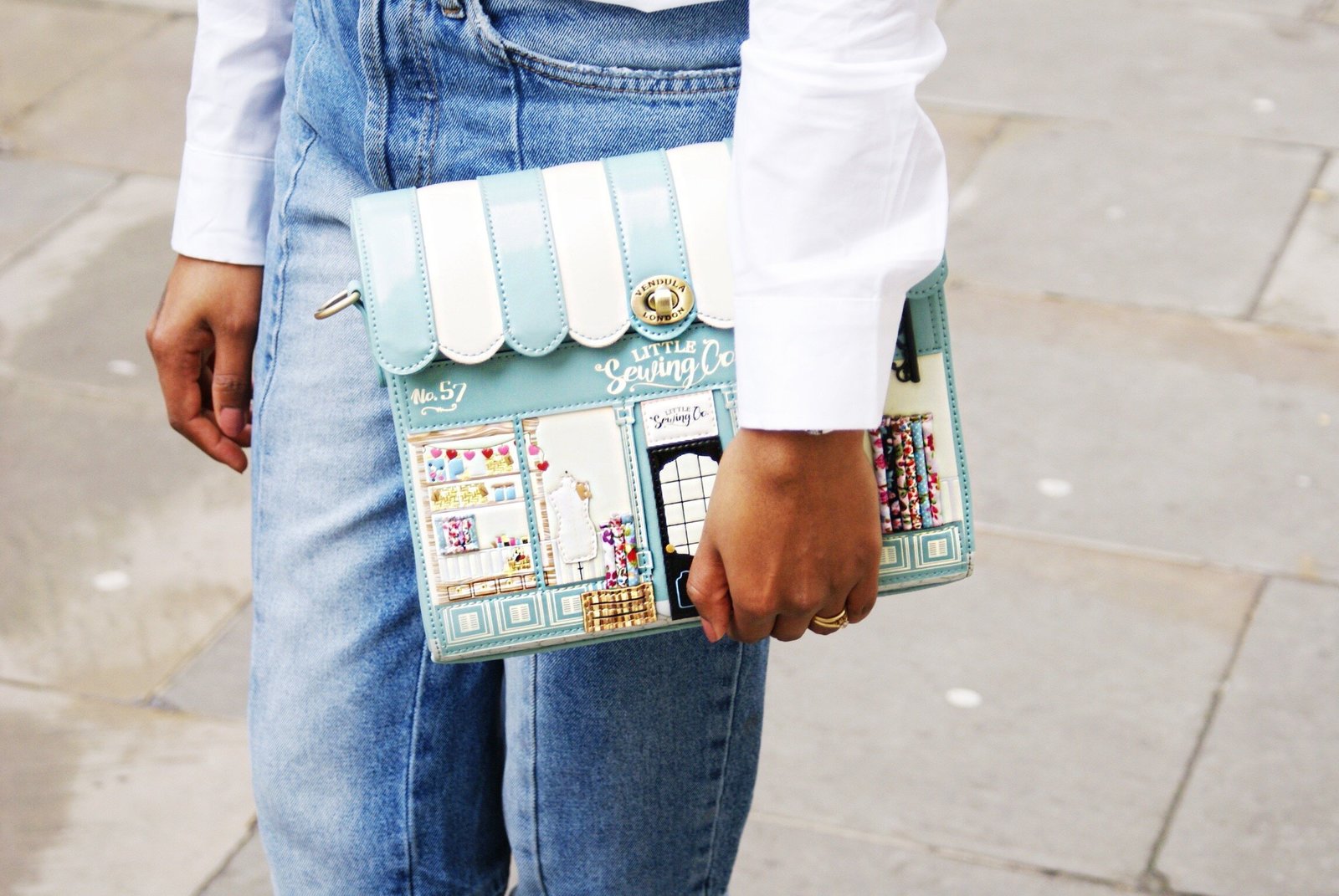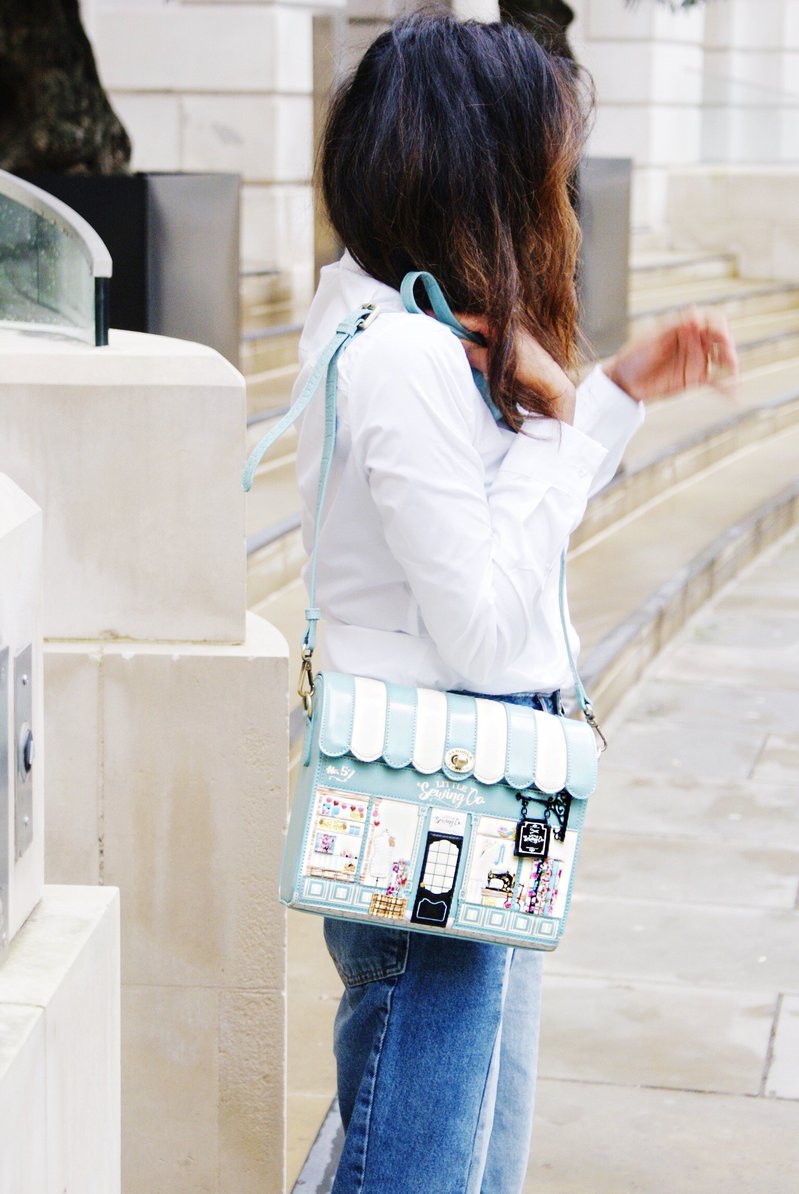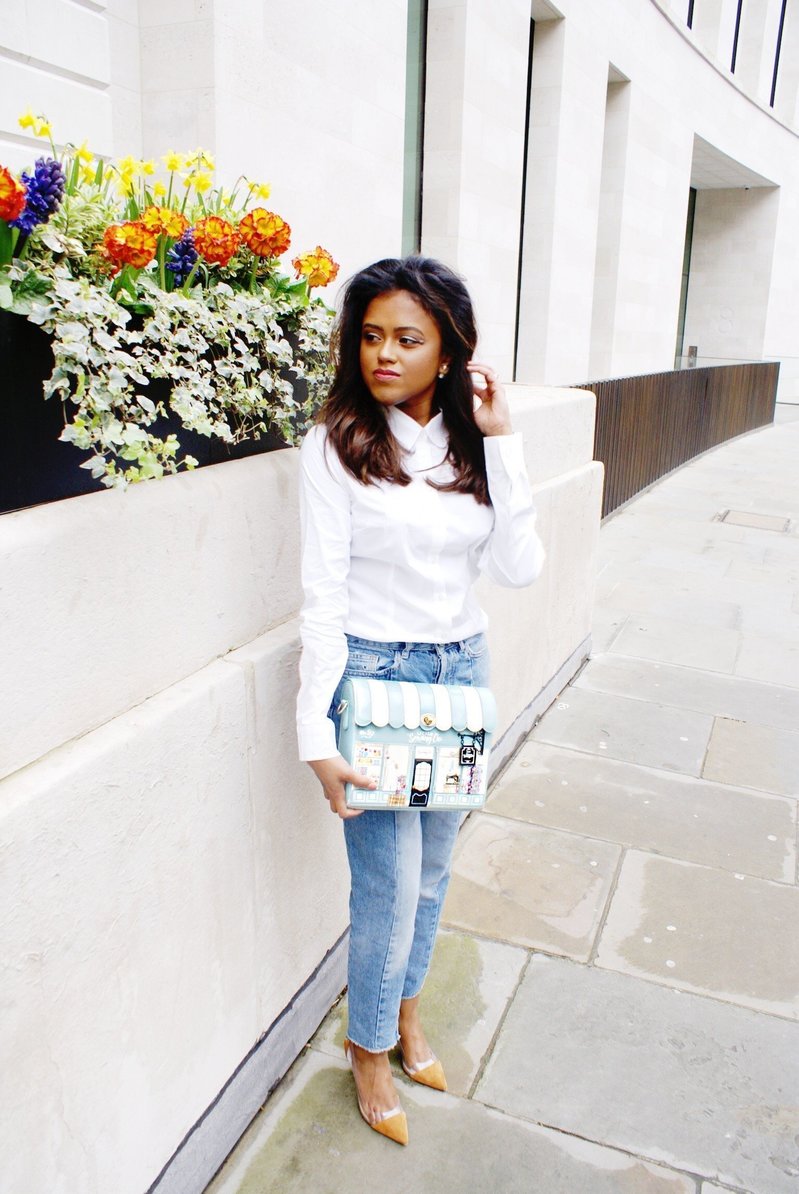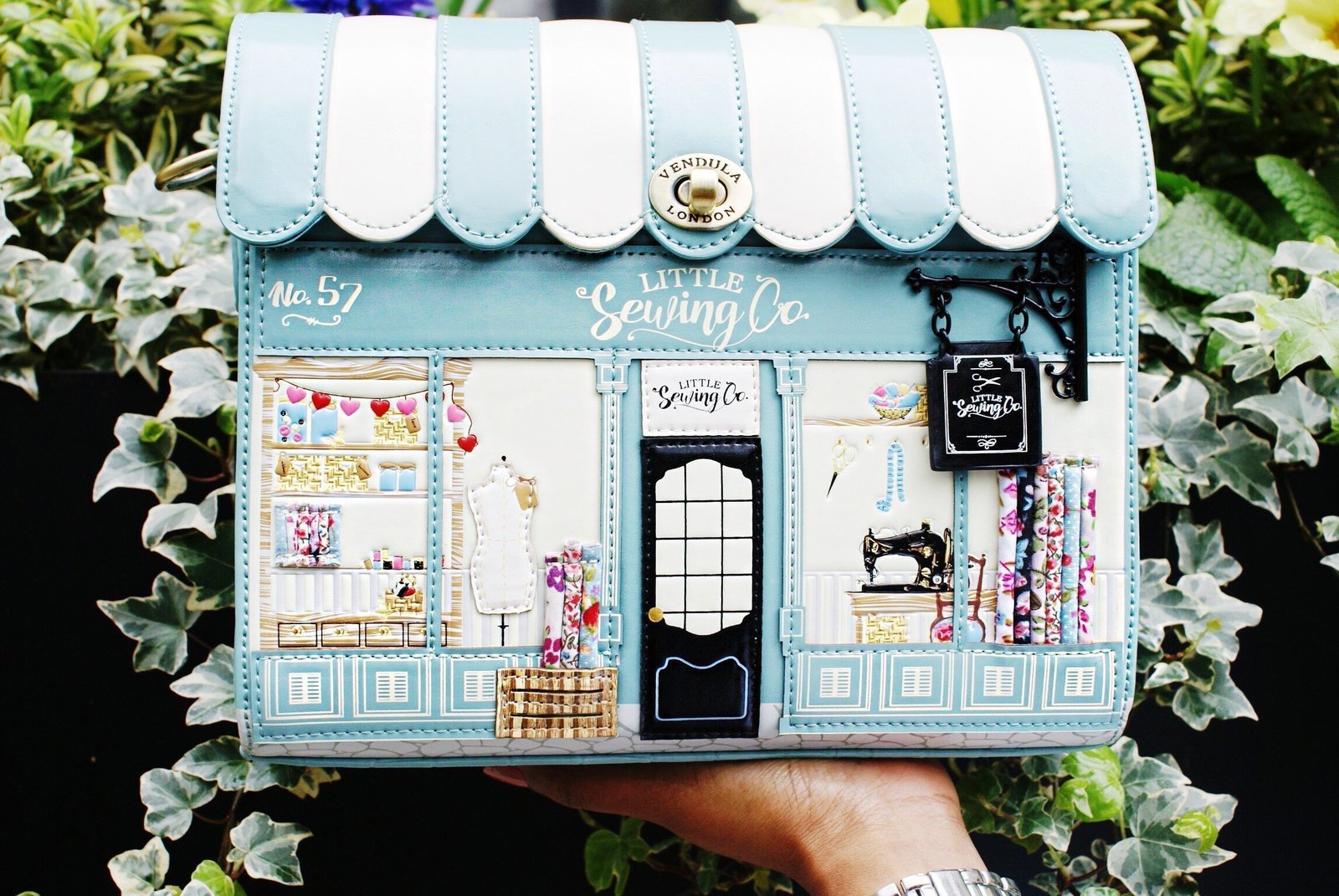 One thing I have always realized when styling a statement piece is that it has to be the centerpiece of the outfit. So the rest of the outfit need to make a flattering background for the bag.
So going for a neutral color palette always helps. I love pairing white shirts with neutral color bottoms for Spring and they create the perfect canvas for the statement bag to stand out.
A pair of boyfriend jeans and a classic button-down is always a winner for a casual look. But if you are going for a more formal dressed up look, I would wear a plain color dress in a pastel color with a killer pair of nude heels to highlight the bag.
Going with the neutral color palette, I prefer wearing the minimum amount of jewelry for this look. A statement watch and a pair of earrings are great for a well put together style.
I always look into the color palette of the bag to see what kind of jewelry would be more flattering. In this case, the bag was in this beautiful shade of blue with some white panels on the top. So I opted for a pair of Dior pearl earrings and my silver watch.
They all help the focus point and I get to rock this gorgeous statement bag!